Today's special. Not only is it the Lord's day, I got two impeccable bloggers nominating me for the same 'tag' and I feel real honoured by their kind gesture.
First is PoojaG who's a bigwig in the blogosphere with over 10,000 WordPress followers! She often helps readers discover traffic hacks and covers topics on mental health and her Canadian student lifestyle. Sign up to her premium content here.
The second is a Christian blogger who goes by the beautiful name of Mrs Tangie T. Woods. She runs a spiritual blog and often explores topics concerning the Christian faith, her sermons are very colourful and revealing. Read them here.
Miss PoojaG and Mrs Tangie Woods, thank you for considering me for this terrific tag. So just as the name implies, I'll be discussing ten of my favourite feelings. Like I thought, it's not going to be entirely blog related.
Let's begin.
Ten Of My Favourite Feelings Tag
#1. Coming Up With A Great Idea
Because of the current times, I find it tasking to generate ideas to write about.
First, I can't go on trips like I used to and transportation prices have skyrocketed. Plus, not everyone takes wearing of face masks serious so it's a bit risky to be going on adventures right now.
Most remarkably, I started a 'Surviving Covid-19' series which chronicles the pre-lockdown, quarantine and curfew era. If anything, that's one of my biggest achievements this year.
It's certainly surprising that just when I have nothing a great idea springs up from just watching the news, reading a book, listening to a friend or reminiscing on my past experiences.
Thank God for brains.
#2. Eating Suya
There's something about this sumptuous African delicacy that intrigues me all the time.
Wikipedia describes suya as a spicy meat skewer generally made with skewered beef, ram, or chicken.
I love it sprinkled on my food and occasionally enjoy the kilishi version.
#3. Finishing A Good Book
Since the beginning of the Coronavirus pandemic, I've connected with gigantic creatives, visited destinations virtually, switched to a content calendar and more recently, read more books.
A few of the good books I read during this time are The Sixth Man by David Baldacci, The Last Duty by Isidore Okpewho, The Concubine by Elechi Amadi and Burn by James Patterson and Michael Ledwidge.
I'm currently reading God's Generals by Roberts Liardon and I'm looking forward to finding a book about June 12, officially democracy day in Nigeria.
The comic book is called June 12, 1993: Annulment, it's a 300+ paged graphic novel and is illustrated by Abraham Oshoko.
#4. Getting A Positive Review
When someone hits me up on my socials or in the comments section with a positive or fantastic feedback, I do a happy dance.
Faraway in Osogbo, my article about the first cinema in the capital city contributed to a lady's fun weekend and she was so jovial in the comments. That for me was gold!
#5. Getting Retweets Or Likes
Twitter isn't one of the most engaging social media platforms, people skip your tweets like they're avoiding the anthrax when you're not an influential somebori.
If I happen to get a big chunk of engagements on a single tweet, LOL I also do a happy dance.
#6. Listening To The Radio
I'm currently tuned into Cool FM Lagos 96.9 listening to Daddy Freeze preach as I write this blogpost, I've been a patron of the radio since my university days and my fandom hasn't quenched since.
Radio can be very entertaining because of the many impressive on-air personalities and most engaging audience.
#7. Riding A Bicycle
Simple, I like riding bicycles.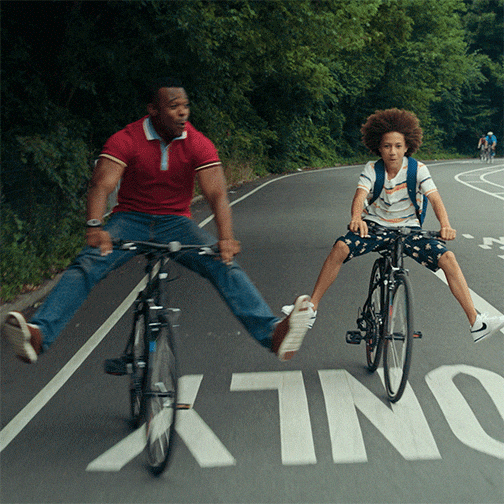 #8. Road Tripping
Some of my most memorable events as a kid include the countless number of times I road tripped with my family across the country.
My dad was always on the wheel and I had the chance to experience different cultures at such a young age. It was rapid too because I never spent over five months in a place.
Nowadays, road trips are still fun but I've come across a few suicidal drivers, maniacal passengers and terrible breakdowns. And even though, it's fun in the end.
#9. Sleeping In The Rain (not literally)
Wawu, sleeping through rainfall can be one of the most beautiful things. I'm feeling lucky because it's been raining continuously in Lagos for like half a day.
I enjoy the cool weather but my heart goes out to the victims of flash floods.
#10. Watching Gist Nigeria
Gist Nigeria is a weekly aired program that is a collaboration between Channels Television and the BBC. It is hosted by Wale Fakile and like he says, it's a program for the social media generation.
I've never had a bad time tuning into Gist Nigeria and I just love the in depth research and how societal issues are deciphered.
My favourite feature is Check Me Out, you'll discover a whole lotta inventive Nigerians. It was such a mood when Wendy Okolo, an aerospace engineer said she missed eating yam in Nigeria. Watch it.
And The Nominees Are…
Ah, finishing this feels like an accomplishment and although I can nominate up to ten bloggers, I'll like to keep it as open as possible.
Whoever is interested in this favourite feelings tag should consider jumping on it as well, everyone's welcome.
I'll Like To Give A Special Shoutout To…
Delusional Bubble, his blog is one of the many ways I'm able to tour the world virtually. I discovered a country that gained independence in 2006 and one where citizens are natural polyglots.
Vincent Ehindero, one of my blogger friends thought it would be nice to recognise good blogs from time to time and now, I'll be doing this casually.
Read this Delusional Bubble post about Djibouti.
Conclusion
Some of my favourite things not mentioned above include reading conversational articles, watching a great movie, sightseeing and making short video stories of my blogposts.
Thanks for reading through this somewhat boring list.
Do we have any favourite things in common? What did you find shocking or very relatable? Kindly share in the comments.
See you again this week.
Cheers!