What's Poppin, Friend?! You heard the song?
I'm supercharged today for the Liebster Award because it's the grand finale. Whoop! Whoop!
Ahem, I'll like to thank the charming Adaeze who nominated me for my third Liebster Award. She blogs at introvertnextdoor where she churns out exciting weekly playlists, six word stories, lifestyle ideas, book reviews and much more.
Make sure you check out her blog today.
Before I Get Seriously Underway, First The Rules…
1) Thank the blogger who has nominated you and provide the link to their blog.
2) Answer the eleven question given to you.
3) Nominate eleven other bloggers.
4) Ask your nominees eleven questions.
5) Notify your nominees once you have uploaded your post.
My Replies…
1. Have you had any recent changes in your life since the quarantine? If they're not too personal, do you care to share them?
Nothing much. I'm staying home more often right now. That's pretty much it.
2. Where do you see yourself two years from now?
I like to keep an open mind because everything that has happened to me thus far wasn't predictable. Well, apart from the obvious exceptions which include going to school, being posted for national service and job hunting.
So, let's say two years from now, I'm working in an excellent firm, travelling to more destinations and continuing my art gallery excursions. It's all in God's hands.
3. How often do you drink water? (That's right, I'm here to remind you to drink water)
Now that I really think about it, I have approximately six glasses of water every single day. Don't know if that's close to what medical practitioners recommend but thanks for reminding me.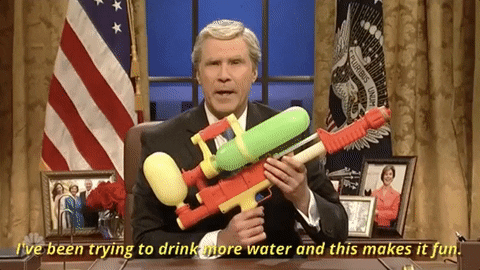 Water is very important.
4. What's your current favourite book?
Easy! The Other Side Of Midnight. I like that it's multidimensional and touches on several kinds of people, I also enjoyed how the author linked the two main characters – Noelle Page and Catherine Alexander.
The Other Side Of Midnight is a masterpiece by Sidney Sheldon and I hear there's a sequel.
5. What's your current favourite movie?
I'm shaking my head now because everytime I'm asked this question, I give a different answer.
For now, it's Netflix's The Old Guard.
6. Imagine there were no problems whatsoever in the world. No famine, no wars, no virus outbreaks, no hate, just positive vibes all around. Would your life be any different? How so?
It's hard to imagine to be sincere. If this happened, I'd be able to trust people more, have more friends and probably worry less.
7. How do you spend your free time away from your phone?
I'm hardly not on my phone but when I finally drop my Samsung or kill the battery, I'm either cleaning the house, eating, watching television or reading a book.
8. What's your current favourite song?
I said it in my opening already!!!
What's Poppin by Jack Harlow. He features Tory Lanez and Lil Wayne on the remix. Ah, that one I can listen on repeat for a whole day.
9. What's your dream career?
I really can't say at the moment because I'm open for any career regardless of the industry but I'm hoping for something that gives me enough time to visit new destinations and write about them.
10. Who are your favourite bloggers?
Aha! They're a bunch to be sincere but I'm going to keep to ten of my favourite amazing bloggers for the sake of this blogpost.
Every single blogger I've come across on wordpress offers something different and unique. I love you guys!
Rochelle Knight for her Jamaican travelogues, beach and waterfall reviews.
Salsa World Traveller for his know-how on aircraft and aviation history and most recently, air travel Covid-19 protocols.
Sandra for her amazing nature photography, flora and fauna write-ups.
11. Is there any quote that makes you feel better during these times? What quote is it?
It's officially on my Twitter.
12. How do you feel at the moment?
It's a little after eight a.m. and I just got out of bed. I'm feeling a bit groggy now but I know it's going to be a super positive day eventually.
I'll Like To Give A Special Shoutout To…
Maria Cristina Gino Baroso from beautifulpeople.inc
I only discovered Maria three days ago and I found her Pinoy's Pandemic Comedy real fun to read but that's not all. She also has many other humorous views and interestingly talks about mouthwatering dishes, thrilling destinations and fantastic people.
And The Nominees Are…
I enjoyed every bit of this post and I'll like to leave this open and nominate anyone who finds these questions amusing. You're welcome!
Conclusion
Again, I want to profoundly thank Adaeze who nominated me for my final Liebster award. It's been a fun ride.
And thanks to you too for stopping by and reading my blog today.
What was my most interesting answer? C'mon lemme know in the comments below.
See ya next week.
---
Connect with me on all Social Networks.